Business Spotlight: Speachless Interiors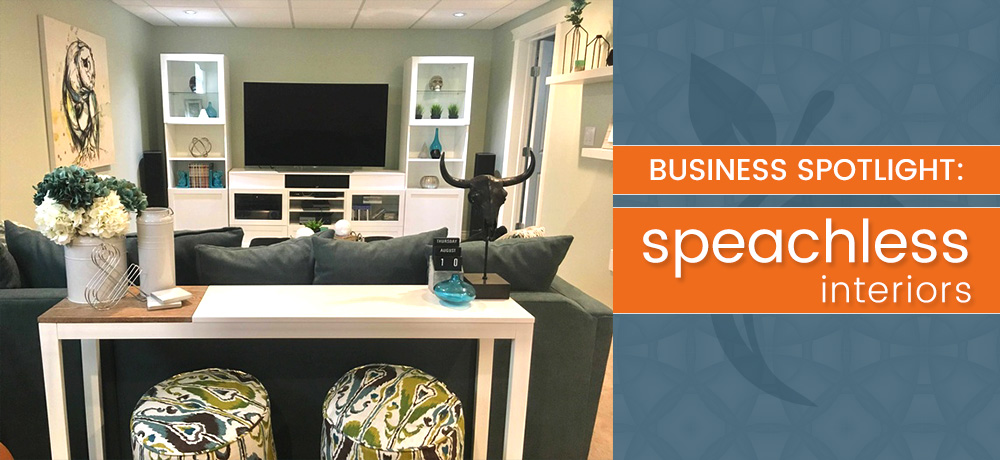 About Speachless Interiors
Speachless Interiors is full service interior decorating company established in 2013 out of Edmonton, AB and recently shifted to Airdrie, AB. While it's currently a one-woman operation, I'm hopeful that we will expand eventually to bring on new decorators. I am open on regular business hours - Monday toFriday 8:30 a.m. to 4:30 p.m. but with me working another job on top of that, my hours are usually 24x7 and whenever I have a chance to do them. The work never ends!
I started Speachless Interiors in 2013, a few months after I graduated from the University of Alberta.
After graduation, I was hired at a flooring store in Edmonton and I had people coming in wanting a designer to come into their home and help them pick out the right flooring option and color. After a while, I figured, why not start a small company on the side to help people while also making more flooring sales? It's a win-win for both parties as I charged a flat fee to come to their home and give expert advice on colors and types of flooring. I am also able to give them a great deal while selling them a floor that I know will benefit them and they will love. It was really a no-brainer. And that is inevitably how Speachless Interiors came to be and it has now grown into more of an interior selection and decorating company rather than just consults.
Speachless Interiors is most definitely in a state of growth and will probably be for a while which I find very exciting! There are a lot of changes that have and are continually being made to improve the functioning of the company, which in turn will benefit the client by increasing the quality of service, efficiency and organizational aspects of each project which is a huge bonus for them and to my business as well.
To continue on my path of growth, I have recently changed locations to Airdrie, AB and I'm hoping to grow a larger market in Airdrie and break into the Calgary market very soon.
The Speachless Interiors Difference
What sets me apart from any of my competitors is my ability to mix colors, patterns, and textures. I also have a great eye for balance in a space. Usually, I feel unbalanced when something is unbalanced, and my knowledge in flooring is a huge asset in this industry.
The feature of my business that makes me most proud is my compassion to make sure that my clients' dollar is getting put to good use and choosing functional products that make their lives better. When dealing with a person's home, I ensure they know that I am looking out for their best interests. At the end of the day, I want to have a successful business that brings joy to people and their day-to-day life after having me in their home.
A customer usually chooses to explore my business as they are typically unhappy with a current space in their home or the whole home doesn't flow properly. In reality, something just isn't working for them. Or they are moving into a new home and really want it to feel like home with a contemporary touch. And that is exactly where I can help. I genuinely listen to what my client's current problems are with the space and how my solutions make their lives work a bit better day to day which creates a bit of happiness in their lives. Plus my process is quite hands off for my clients and I can work with most budgets.
My future dream for Speachless Interiors is to eventually undertake full on renovations, house flips, and build a strong and efficient team to carry out these full-scale renos. I am already planning the business model but it's still a work in progress.
To learn more about Speachless Interiors, please click here. If you have any questions about how I can help you, I'd love to hear from you. Please contact me here.